Most people get sceptical when it comes to purchasing flowers from an online florist, and the scepticism isn't for no rhyme or reason. They wonder if the purchase will be worth the cost. However, a significant number of people do not make purchases online because of a lack of information. If you know a few insider secrets and have some tricks up your sleeve, you might be able to take advantage of some incredible deals and offers from time to time.
So, we are going to discuss some of the best ways to choose an online florist and how to order flowers online purchase flowers that will mesmerize the recipient time and time again.
Since most of us are familiar with the simple flower order form and know how to order flowers online., it is time to know how we can get the best-looking flowers in a timely way. We have to have some basic knowledge about flowers, which will help us decide on what kind of flowers we need and what color we want.
Best Tips on how to order flowers online
In this article, we will discuss the best tips on how to order flowers online.
Choose an online store that is in your city
Flowers just like us are living breathing things. Most flowers usually live for days on a plant but survive only for a limited period once they are plucked. If you are going to purchase flowers from an online florist who will send you the flowers from another city or state, chances are the recipient will not receive fresh flowers.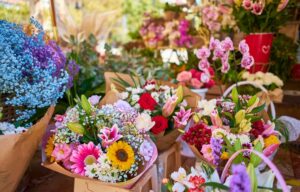 Select according to the occasion
The flowers must be delivered on the same day that they are ordered if the recipient wants them to maintain their freshness. Therefore, the most reliable option would be to buy flowers from a local shop that also has an internet presence.
You will only make a suitable flower purchase if you know the occasion for which you are sending the flowers. Online stores have different types of bouquets for various occasions such as birthday flowers, wedding flowers, anniversary flowers, Valentine's Day flowers, and so on. So, choose a bouquet that specifically suits your purpose.
The store must have a wide variety
When you have many options to choose from, chances are you will truly get to purchase what you have in mind for a loved one. If you want to send flowers to a friend, then the online florist you choose must have yellow roses as red ones won't serve the purpose.
The online store must have a variety of flowers, bouquet designs, artificial flowers, chocolate flowers, different packaging, and gift cards to go along with them.
Learn about bouquet sizes
One common problem of purchasing flowers from an online florist can be unexpected turnouts. It can so happen that you choose a bouquet size having something in mind but end up receiving something quite different from what you had expected. So, do a bit of research about the size structure of flower bouquets so that you can order the right size based on your requirement. It will save you money and spare you the hassle.
Browse through the selection
The sheer diversity of options available is one of the most compelling arguments in favour of making flower purchases online. You will, however, need to spend some time looking through the whole store's inventory before making a purchase. It will help you gain knowledge about the store's offerings and help you to buy something completely different and unique compared to what you previously had in mind.
Use the right filter during the search
Anyone who wishes to buy anything online uses filters of some sort. Filters help narrow your search down to more specific results that cater to your needs. So, if you want to purchase flowers online, then you need to add filters such as type of flower, bouquet size, the colour of flowers, type of occasion, etc.
The type of flowers and their colours represent various things. So, when you are about to purchase flowers from an online florist you must know what certain colours represent. In general, yellow, orange, and white represent friendship, red represents love, pink flowers show interest, and so on. Another way to choose the colour of the flower is to choose based on the favourite colour of the person you are sending the flowers to.
Conclusion!
No matter how much money or time you invest in purchasing flowers for a friend or a loved one, it doesn't mean much until you add a sweet and thoughtful note to go along with it. Choose an online flower store that accepts requests and is willing to add a personalized heart-warming message as it will complete your gift.
Visit: Exploring the Different Types of Flower Delivery Options Available